The method of sourcing deals on Axial is the buyside project.
Buyside projects capture information about your investment criteria so our system can intelligently recommend you to sellside members whose opportunities best fit your interest. They allow you to highlight your focus, strengths, and expertise, so you can stand out to those members as someone they should reach out to.
To create a new project:
From the homepage, click Create A New Project.
You will be prompted to select this project's primary objective, which will be to Buy, invest in, or lend to a business:
Then, select one of two options:
Buy a business – for sourcing deals involving exit or change of control OR
Invest or lend – for sourcing deals involving minority equity, debt financing, or a loan
If you're interested in both of these objectives, start with one: you can always come right back and create another project so that all of your sourcing goals are covered by projects on Axial.
Then, you'll need to provide an internal code name for the project. This is to help you easily distinguish between projects at a glance. This name is never shown to anyone outside of your firm.
Your Buyside Project Wizard: 
Click Continue and you'll be directed to the buyside project wizard, which guides you through the process of building your project, step-by-step. The information you provide into this wizard should reflect your investment criteria as accurately as possible, so that our algorithm can ensure that you see only the most relevant deal flow.
You'll be able to specify your preferences when it comes to the types of opportunities you are sourcing, what size opportunities you're willing to consider, what industries you're interested in, and where you're open to seeing opportunities from in your Core Filters.
Industry selections and filters narrow your sourcing criteria to deals in industries you're interested in sourcing from.
Any time you're setting up a buyside project with a broader industry focus, like for a new platform investment in Consumer Goods, we recommend starting with Common Categories.
For some broader add-on projects, like HVAC or IT Services, Common Categories might also be helpful – but you'll likely want to use them as a jumping-off point and refine your selections in the Advanced Selector (read more about how to do that here).
For add-on opportunities and strategic buyers, the Advanced Selector will probably be the best starting point given the specificity allowed. The results can be expanded to see greater and greater specificity in particular industries. For example, a buyer could have a very specific interest in ice cream manufacturing.
Additionally, our  Buyside Project Industry Selection Guides outline the industry selections most commonly used by members sourcing within a few niche industry categories not covered by our Common Categories.
Finally, describe your investment criteria and outline your interests and experience within the industry. Your project headline should describe the exact type of deal you're looking to execute. Good titles help projects stick out, which often leads to increased deal flow. In your project description, be sure to include information about why you're sourcing against the parameters you have outlined, and include general history about your firm where possible. You can assign a primary contact at your firm to be the main point of contact for this buyside project.
If you want to get even more specific and describe your precise deal terms as well as any industries or end markets you are NOT interested in for your mandate, you can do so in your Advanced Filters.
Keywords are terms that refine the deals that you will be matched to.
You can utilize this feature to hide your mandate from firms who you may not be interested in (in this example, "Exilium Advisors", "Lionel Corporation", or "ACME Capital").

If you're interested in retail distributors, but particular interested in uniforms for emergency medical technicians, you can have keywords like "gear" and "EMT".

Negative keywords remove deals that contain terms in their descriptions. For example, if you were specifically

not

interested in uniforms for firemen, you could have the negative keywords "fireman" and "firefighter".



Finally, click Activate Project to start sourcing deals through this project. You may need to upgrade your Axial membership to be able to do so; in this case, call us at (800) 860-4519, or reach out via the live chat widget in the bottom right corner of the platform. You can Save Project to keep any progress you may have made. 
You should now see the buyside project summary page after activating, and you will now start to be recommended to business owners and advisors seeking partners like you. If you fit their criteria, they will share their teaser with you, and you will see a notification for inbound deal flow in your nav bar and your homepage. If you wish to hide your mandate from the network, you can always inactivate it by clicking the status toggle. 
Best Practices for Creating a Project on Axial
Project Headline:
When a sell-side member looks at a list of potential transaction partners, project headlines are the first thing they see. Headlines are what differentiate your firm from others, so it's important to be clear, concise, and descriptive about your thesis/mandate. Start your headline with something that highlights your intent. Here's a strong example:
Branded Consumer Goods E-Commerce Opportunities

Project Description:
Your qualitative project description is the best way for you clearly demonstrate exactly what makes you an attractive deal partner. The best way to structure a description is to start with why you are looking to make an investment in that space, including:
Why you're interested in the sector

Your investing or operating experience in the sector

Background information on your firm and its partners
This is what a project summary page with a great description would look like when complete:
What makes this description great? In short, it:
Describes their mandate and 

not 

just

 

their firm

Highlights why they are looking for this opportunity

Outlines why they are experts in their niche and a good potential partner
Taxonomy:
Axial's industry category selection tool allows you to easily navigate over 18,000 sectors to specify your industry interests for a strategy that's as broad or narrow as you like.
A few ways you could approach your strategy include:
A broad project (with 

broader

 industries, but 

narrower

 financial criteria)

A project focused on a particular industry (with a targeted selection of industries within one vertical)

An add-on project (more targeted sector selections, perhaps more flexible with the size of the business, with additional keywords for anything not found in the taxonomy)
Select a vertical and business activity to generate a list of sectors to choose from. As a generalist, you may choose to select high level sectors and maintain broad coverage across a vertical. As a strategic acquirer, or when sourcing for add-on opportunities, try to identify the most specific node of the tree that matches your area of interest. This means the deals you see will be highly relevant without the need to add keywords – only use keywords if the industries are not detailed enough.
Pro tip: We recommend creating separate projects for each vertical in order to clearly demonstrate areas of interest. This will create stronger matches and ensure you surface high on recommendation lists.
Keywords:
Keywords can add another layer of filtering to your project.
For positive keywords, at least one of the words or phrases you select has to appear in the deal headline or description for you to be surfaced to the seller. If you choose to use them, it's important to try and identify multiple words a seller might use to designate the niche or business activity that you're searching for.
Examples of positive keywords include:
Branded

Patent

Proprietary
Negative keywords are useful to remove themes that you aren't interested in. A best practice is to look at recurring themes in deals you've declined and identify what you would like to remove from your deal flow.
Examples of negative keywords:
Contractor

Franchise

Consulting

Outsourced
Best Practices for Behavior on Axial
Do these things to be a good Axial member
1. Be responsive:
Respond to a deal within 48 hours for a great score

Respond to a deal within 5 days for an OK score

Respond to a deal after 7 days will result in a poor score
Why should you care about your responsiveness score?
Sell-side Axial members like investment bankers are conscious of their time, but also sensitive to potential buyside partners' time – they wouldn't send a buyer or investor a teaser if they didn't think it was a good fit. That being said, sometimes it isn't a good fit, but everyone deserves a response – even if the answer is no. In order to improve our sell-side members' experience and the health of the network, buy-side members will receive a poor responsiveness score when they don't respond to deals. This responsiveness score will be shown to sell-side members, and may hurt your future deal flow as they may decide to not share opportunities with you if you are unresponsive.
Here's how responsiveness is shown to our sell-side members:
*Note: poor responsiveness scores are in yellow and red.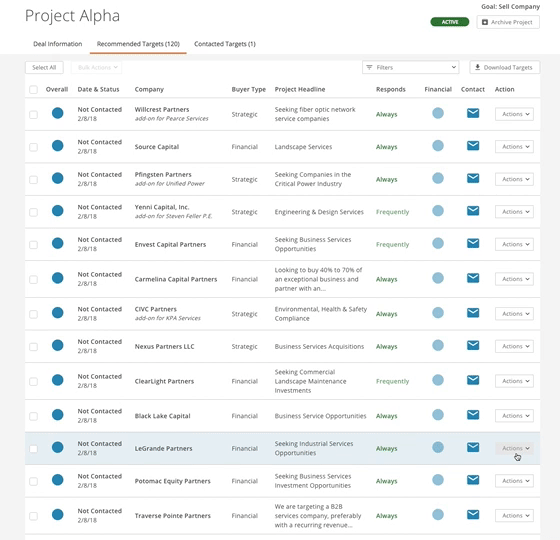 Notice how "occasionally" and "very rarely" responsive buyers and investors are found at the bottom of the list? Not good!
2. Be as specific as possible about your intent to facilitate relevant deal flow
By accurately describing your intent through each project you create, you'll receive relevant deal flow. Remember, sell-side members are reaching out to you based on your project headline, description, and details about your firm. Follow the steps outlined above and it should be smooth sailing.
3. Keep your profile up-to-date with relevant details
Having a complete profile is how to put your best foot forward on Axial. A few ways to do this are:
Invite your colleagues 

so that sell-side members know who else works at your firm, especially if they cover different industries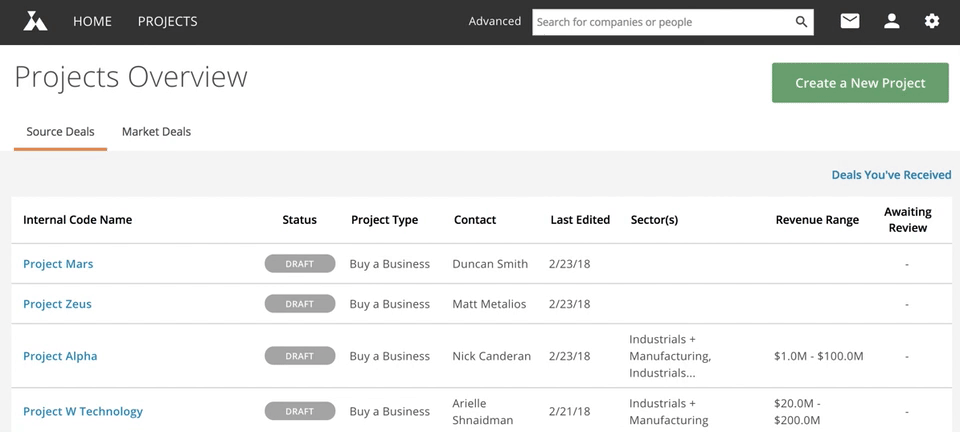 Upload past tombstones

 to give you more credibility and outline your experience. Tombstones appear in the matching context of any deals in the same industry, so it's a great way to add credibility to your firm.

Upload profile pictures

 to give yourself a human-element so sell-side members know you're active and invested in the network.