The prime method of sourcing deals on Axial is the buy-side project.
Buy-side projects capture information about your investment criteria so our system can intelligently recommend you to sell-side members whose opportunities best fit your interest. They allow you to highlight your focus, strengths, and expertise, so you can stand out to those members as someone they should reach out to.
To create a new project:
From the homepage, click Create Your First Project (or Create A New Project, if this isn't your firm's first project on Axial).
You will be prompted to select this project's objective:
Buy a business – for sourcing deals involving exit or change of control OR
Provide capital for a business – for sourcing deals involving minority equity or debt financing
If you're interested in both of these objectives, start with one: you can always come right back and create another project so that all of your sourcing goals are covered by projects on Axial.
Then, you'll need to provide an internal code name for the project. This is to help you easily distinguish between projects at a glance. This name is never shown to anyone outside of your firm.
The objective section is where you outline the financial ranges and types of deals you are looking to source on Axial.
Click Get Started and you'll be directed to the project wizard, which guides you through the process of building your project, step-by-step. You'll be able to specify your preferences when it comes to deal terms, what size opportunities you're willing to consider, what industries you're interested in, and where you're open to seeing opportunities from.
Industry selections and filters narrow your sourcing criteria to deals in industries you're interested in sourcing from. Generalists can select broadly at high levels of the tree. For example, food manufacturing which covers over 900 different industry sub sectors.

For add-on campaigns and strategic buyers, the results can be expanded to see greater and greater specificity in particular industries. For example, a buyer could have a very specific interest in ice cream manufacturing.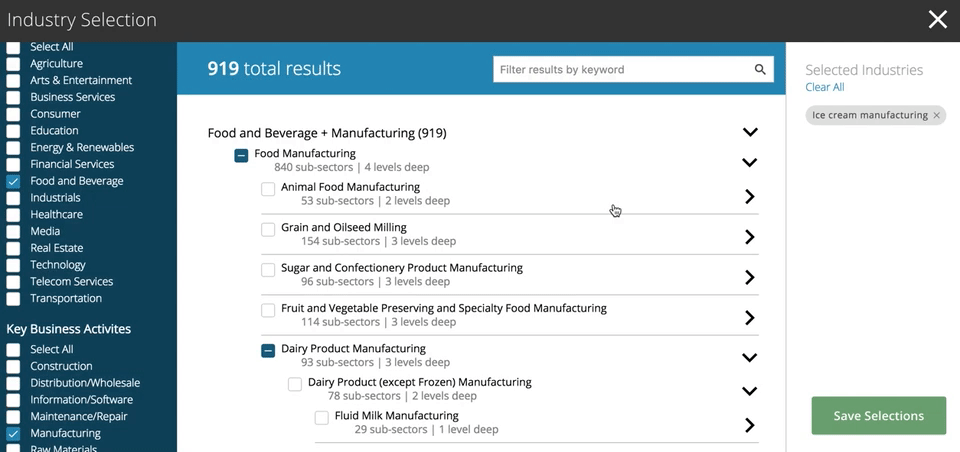 Keywords are terms that refine the deals that you will be matched to. For example, you could be interested in retail distributors, but particular interested in uniforms for emergency medical technicians, you can have keywords like "gear" and "EMT". Negative keywords remove deals that contain terms in their descriptions. For example, if you were specifically not interested in uniforms for firemen, you could have the negative keywords "fireman" and "firefighter"

The information you provide into this wizard should reflect your investment criteria as accurately as possible, so that our algorithm can ensure that you see only the most relevant deal flow.
Finally, describe your investment criteria and outline your interests and experience within the industry. Your project headline should describe the exact type of deal you're looking to execute. Good titles help projects stick out, which often leads to increased deal flow. In your project description, be sure to include information about why you're sourcing against the parameters you have outlined, and include general history about your firm where possible.
Click Save & Exit to save your project as a draft. 
You should now see the project summary page. Here, you can assign a user at your firm to be the main point of contact, and you can click the status toggle to activate the project and start getting recommended to business owners and advisors seeking partners like you. If you fit their criteria, they will share their teaser with you, and you will see a notification for inbound deal flow in your nav bar and your homepage.
Buy-side projects are invisible until activated, and you can always inactivate it to hide it from the network.
Search
Use Search to identify potential partners and investment opportunities you may not be seeing through Campaigns. Simply type in criteria of interest (ie. cities, industries, keywords, etc.) and select the type of results you want to see returned:
Use Advanced Search to include additional criteria in your searches for companies and members on Axial. To run an Advanced Search, simply click the link in the navigation bar, and select the specific criteria you'd like to search for. When you're done, click the blue "Search" button on the right. If you anticipate wanting to revisit a Search or to share the results with a colleague, you can save searches after they're run.
If you see members or firms of interest, send them a message or click to access their phone number and give them a call.